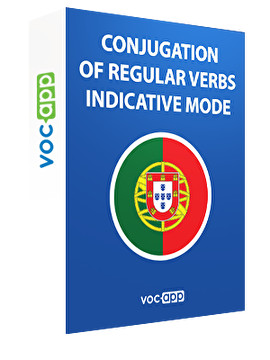 Conjugation of Regular Verbs - Indicative mode
Learn how to conjugate Portuguese verbs with VocApp!
Have you started learning Portuguese? Are you studying verbs conjugation and find it very difficult?
Portuguese verbs can be very complicated, but we made it so you can learn them very easily!
With this course you will learn how to conjugate regular verbs in the Indicative Mode! In all the tenses!
So stick with us at VocApp and improve your Portuguese language skills!
Registrati gratuitamente
Questo corso è gratuito al 100%. Vogliamo mostrarti quanto sia efficace e piacevole imparare con noi :)
Verbs - Verbos




7 schede

To like - Gostar




41 schede

To drink - Beber




41 schede

To smile - Sorrir




41 schede
---