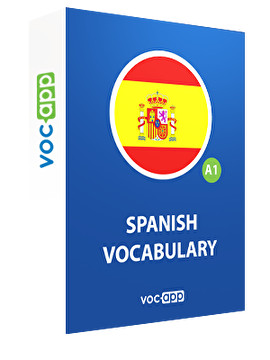 Spanish Vocabulary A1
You will learn that with us!
Start to learn the language of Shakira, Pablo Picasso and Gabriel García Márquez
Don't be afraid of the Spanish pronunciation - our recording will help you master it
This basic vocabulary will show you the beauty of the Spanish language
Find out some differences between Latin American Spanish and Spanish used in Spain
×
Domande?
Creare un account >

Selezionare un metodo di pagamento

>

Pagamento

>

Conferma della registrazione
Sommario
Spanish Vocabulary A1
---
€9.99

*
---
Per il rimborso entro 30 giorni
Garanzia
Prova gratuitamente (50 schede)
Acquista accesso completo
Languages, countries and nationalities - Idiomas, países y nacionalidades




82 schede

Time, calendar and frequency - Tiempo, calendario y frecuencia




103 schede

Jobs - Profesiones




76 schede

Introductions - Introducirse




36 schede

In the city - En la ciudad




81 schede

Greetings and farewells - Saludos y despedidas




31 schede

Food and drink - Comida y bebida




83 schede

Fashion and clothes - Moda y ropa




49 schede

Mostra tutte le lezioni (27)
Wszystkie kursy są objęte gwarancją zwrotu 100% zapłaconej ceny.
Do skorzystania z gwarancji nie jest wymagane przedstawienia żadnego powodu.
Z tej gwarancji mogą Państwo skorzystać w ciągu 30 dni od daty zakupu.
Pieniądze zostaną zwrócone na konto najpóźniej w ciągu 30 dni od kiedy dostanę informację, że chcą Państwo skorzystać z tej gwarancji.
Informacja o chęci skorzystania z gwarancji może zostać przesłana pocztą bądź e-mailem.
Marcin Młodzki
,
członek zarządu
(Warszawa, 1. października 2018)
VocApp Sp. z o.o.
ul. Mielczarskiego 8/58 | 02-798 Warszawa
NIP: 951 245 79 19 | REGON: 369727696
vocapp@vocapp.com
Indirizzo
VocApp Sp. z o.o.
ul. Mielczarskiego 8/58
02-798 Warszawa
NIP: 951 245 79 19
REGON: 369727696
A1 Spanish vocabulary
Study Spanish vocabulary with our coarse, which includes Spanish nouns and verbs . Now you can learn Spanish words with ease and memorise them quickly with our Spanish vocabulary flashcards . Improve your Spanish vocabulary with VocApp and speak just like the locals do. If you are more proficient, check out Spanish Vocabulary A2 or Spanish Vocabulary B1
Learn A1 Spanish vocabulary
Learn Spanish words easily and quickly with VocApp. This course includes all the spanish words you may need to achieve Spanish A1 . Study Spanish nouns, verbs and adjectives and improve your Spanish language skills.
Do you want to improve your Spanish vocabulary?
Thinking about learning new Spanish words? Access our course to achieve Spanish A1 vocabulary quickly and esily, get ready to your language proficiency exam or simply broaden your vocabulary and learn Spanish nouns and verbs. Forget about the dictionary.
Spanish vocabulary flashcards
With our flashcards you'll be able to quickly conquer A1 Spanish vocabulary and become more proficient and fluent. Say exactly what you want to say by learning more useful Spanish words . Speak like a native with our course!
Spanish A1 flashcards
Do you want to be fluent in Spanish and express your thoughts and ideas with ease? Try our Spanish vocabulary flashcards and achieve your language goals. In this course you will find Spanish nouns, verbs and adjectives, which will help you to learn and master advanced Spanish vocabulary. Get ready to a language proficiency tests or to travels with VocApp!
---