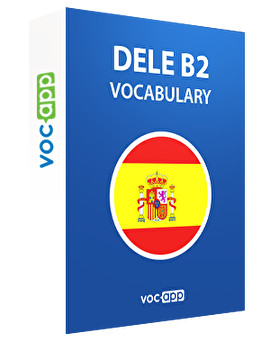 DELE B2 - Vocabulary
Prepare yourself for DELE B2 exam!
Get to know exactly what you need for DELE exam
1500 words of useful vocabulary
Words organized thematically (politics, art, religion...)
Master your Spanish and boost your confidence!
×
Domande?
Creare un account >

Selezionare un metodo di pagamento

>

Pagamento

>

Conferma della registrazione
Sommario
DELE B2 - Vocabulary
---
€9.99

*
---
Per il rimborso entro 30 giorni
Garanzia
Prova gratuitamente (50 schede)
Acquista accesso completo
Transport




106 schede

Time, calendar and frequency




74 schede

Travelling and tourism




117 schede

Sport




99 schede

Shopping and service




106 schede

Relations and emotions




90 schede

In the countryside




43 schede

In the city




47 schede

Mostra tutte le lezioni (14)
Wszystkie kursy są objęte gwarancją zwrotu 100% zapłaconej ceny.
Do skorzystania z gwarancji nie jest wymagane przedstawienia żadnego powodu.
Z tej gwarancji mogą Państwo skorzystać w ciągu 30 dni od daty zakupu.
Pieniądze zostaną zwrócone na konto najpóźniej w ciągu 30 dni od kiedy dostanę informację, że chcą Państwo skorzystać z tej gwarancji.
Informacja o chęci skorzystania z gwarancji może zostać przesłana pocztą bądź e-mailem.
Marcin Młodzki
,
członek zarządu
(Warszawa, 1. października 2018)
VocApp Sp. z o.o.
ul. Mielczarskiego 8/58 | 02-798 Warszawa
NIP: 951 245 79 19 | REGON: 369727696
vocapp@vocapp.com
Indirizzo
VocApp Sp. z o.o.
ul. Mielczarskiego 8/58
02-798 Warszawa
NIP: 951 245 79 19
REGON: 369727696
Learn Spanish
Did you know that Spanish is one of the most spoken language in the world? Indeed, nowadays around 580 million people speak Spanish all around the world and it has become the third most spoken language around the world. Therefore, as you can guess, reaching an advanced level of Spanish can open you a few doors, not only in the professional field, but also in your everyday life.
Prepare for the DELE exam
You are soon going to take the DELE exam and you want to make sure you are ready? In that case, VocApp has the perfect solution for you! We have selected a list of Spanish vocabulary to help you pass the DELE B2 exam. With more than 1500 Spanish words you will learn new Spanish nouns, new Spanish verbs and you will also know more about Spanish grammar and Spanish conjugation.
At VocApp, we know that learning a language can take time and a lot of efforts. So, with the help of our flashcard system, you will easily learn hundreds of words that you will never forget. You really want to better your level of Spanish and pass the DELE exam? Then stop worrying and start using VocApp! With us, you will successfully pass the DELE B2 exam!
More Spanish courses to improve your level
You completed this course and you want to learn more about Spanish language? With the DELE C1 - Vocabulary course, improve your level of Spanish and get ready for the next DELE exam!
And if you want to be a hundred percent sure that you are ready to take the DELE B2 exam, we suggest you take a look at the Spanish Vocabulary B1 course, as it will help you revise Spanish vocabulary that you may have forgotten about.
---