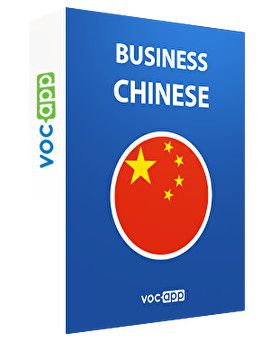 Business Chinese
Learn how to deal with Chinese co-workers or future business partners in China!
It is high time to be professional! This course is made to help you using your Chinese in a working environment
We will teach you more about marketing, how to make a presentation, how to write a formal e-mail or make a formal call in Chinese
Be active during the meetings with your Chinese co-workers
Are you into foreign business? This course will enable you to deal with your Chinese partners easily and quickly
×
Domande?
Creare un account >

Selezionare un metodo di pagamento

>

Pagamento

>

Conferma della registrazione
Sommario
Business Chinese
---
€9.99

*
---
Per il rimborso entro 30 giorni
Garanzia
Prova gratuitamente (20 schede)
Acquista accesso completo
On a phone call - 打电话




23 schede

Making a presentation - 做演示




21 schede

Planning future meetings - 打算会议




16 schede

In a meeting - 在会议中




17 schede

Writing a formal email - 写一封正式信




35 schede

Products, quality and quantity - 产品, 数量和质量




24 schede

Advertisement - 广告




16 schede

Business relationship - 商务关系




15 schede

Mostra tutte le lezioni (9)
Wszystkie kursy są objęte gwarancją zwrotu 100% zapłaconej ceny.
Do skorzystania z gwarancji nie jest wymagane przedstawienia żadnego powodu.
Z tej gwarancji mogą Państwo skorzystać w ciągu 30 dni od daty zakupu.
Pieniądze zostaną zwrócone na konto najpóźniej w ciągu 30 dni od kiedy dostanę informację, że chcą Państwo skorzystać z tej gwarancji.
Informacja o chęci skorzystania z gwarancji może zostać przesłana pocztą bądź e-mailem.
Marcin Młodzki
,
członek zarządu
(Warszawa, 1. października 2018)
VocApp Sp. z o.o.
ul. Mielczarskiego 8/58 | 02-798 Warszawa
NIP: 951 245 79 19 | REGON: 369727696
vocapp@vocapp.com
Indirizzo
VocApp Sp. z o.o.
ul. Mielczarskiego 8/58
02-798 Warszawa
NIP: 951 245 79 19
REGON: 369727696
Why learn Chinese?
Mandarin is one of many varieties of the Chinese language and is mostly spoken in northern and southwestern China. Chinese is the most widely spoken language in the world. Mandarin, also known as Putonghua, is the official language of China, as well as of its special administrative regions Hong Kong and Macau. China, one of the world's earliest civilizations, has now the second largest economy of the world, which means that learning Chinese will open up a world of opportunities for you. Learning Chinese characters is also a great exercise for the brain. Learning Chinese will help you do business with or in China and thus enhance your business relations .
How to learn Chinese for business?
With this Chinese course, Chinese for business, you will be able to learn Chinese online. Manage your time and learn Mandarin at your own pace. Learn about Chinese business culture and Chinese business etiquette. Memorize useful and important sentences to do business in China. You will have access to a varied list of vocabulary and will be able to learn the most used Chinese words, as well as basic Chinese words . Our language learning software will motivate you to learn Chinese and will offer you a rewarding learning experience. Even though learning Chinese might seem like mission impossible, through the use of our flashcards and its spaced repetition, you will easily memorize Chinese sentences, Chinese words, as well as the correct pronunciation of each Chinese character . Thanks to our Chinese for business course you will able to easily understand and communicate with a native Chinese speaker and do business in China. Explore our Chinese for business course and start using the language in a work environment!
Improve your Chinese vocabulary with our courses!
---